Detailing
Total vehicle detailing.
We offer many detailing packages from basic outside washes to complete details
We use the highest quality products and materials.
Guaranteed quality work
Prices may vary due to size and condition of vehicles
Request an appointment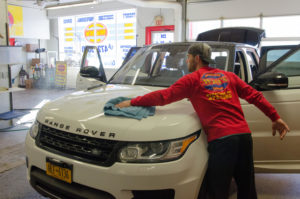 ---
Detailing Packages
Outside Wash
Hand wash vehicle.
$15.00 CAR / $20.00 SUV
Wash/Vac/Window
Hand wash, vacuum, clean windows, door jambs, rims, and tire shine all tires.
$35.00 CAR / $45.00 SUV
Exterior Detail
Our "Wash/Vac/Window" package plus your vehicle is dried, bugs removed, fender wells cleaned, hand waxed, and polished.
$80.00 CAR / $90.00 SUV
Interior Detail
Our "Wash/Vac/Window" package plus clean dashboard, console, wipe down doors, door rockers, clean interior panels, shampoo interior, and condition leather.
$90.00 CAR / $100.00 SUV
Complete Detail
Hand wash and dry vehicle, remove bugs, clean door jambs, wheel wells, treat and condition rubber and trim, tire shine all tires, and hand wax and polish. Windows (inside and outside), dashboard, console, doors, door rockers, interior panels, all plastic, headliner, trunk, and rear storage compartments are all cleaned. The vehicle is vacuumed, carpets, floor mats, and upholstery are shampooed and leather conditioned.
$150.00 CAR / $175.00 SUV
Undercarriage Detail
Removes road salt and road grime.
$10.00
Mist™ (in-car air quality service)
"A MIST service is like a hand sanitizer/deodorizer for the vents and interior surfaces of your car."
$60.00
Clay Bar
Removal of tar, brake dust, and oxidation on body panels. Wax must also be applied to the exterior at an additional cost.
$50.00+
Aquapel (windshield treatment)
Repels rain, snow, sleet, and improves visibility for easier removal of ice, snow, bugs, and dirt.
$25.00
Request an appointment